Augustine in Algeria
Conference ---- Site Visits ---- Travelers' Tales ---- Security Situation
Travelers' Tales: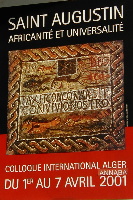 Serious readers may skip or skim this section, meant only to record for the curious some of the details of travel. With our invitations to the conference, none of us had difficulties with visas, though it was clear that formalities were being followed carefully. I had asked for a "tourist" visa, for example, but was told I needed to get a "business letter" from my employer promising to pay my way home if I were stranded. Once I did that, the visa came immediately. As is always the case with Islamic countries, passports that show evidence of visits to Israel will be denied visas. There is little or no tourist information available about Algeria. Even Lonely Planet has no guide. (Only some time after visiting did I find a 1986 "Guide Bleu" by Hachette in a small but excellent travel book and map store in Bilbao, Spain. I have drawn upon it for some information on this site.) Given that we were in a protective cocoon at all times, we had no difficulties, but it could have been challenging to travel there otherwise. There were indications that credit cards would not be accepted, but both hotels (in Algiers and Annaba) did so cheerfully. Travelers' checks remain a useful strategy. We were spared most formalities on entry and exit, but were advised that it is usual to inspect and record currency on entry and exit and to examine discrepancies closely.

We saw nothing of the commercial side of the airports at either Algiers or Annaba, but the service of Air Algerie was professional and unexceptional. Flights to Algiers can be taken from a number of European cities, mainly on Air Algerie, but Alitalia also has an office in the main hotel in Algiers and flights from Rome. (Air France suspended traffic in the 1990s after a hijacking incident.) I flew from the US to Paris, with a flight attendant capturing a characteristic pose somewhere off the south coast of Ireland, changing there to Air Algerie's 767 service to Algiers -- a milk run of four round trips per day. That aircraft was unprepossessing -- it showed signs of having been recently purchased at a southeast Asian used-jetliner sale (it had not yet been repainted in Algerian colors, for example) and could use some refitting, though it was perfectly functional. (In a way that plane stood for much of the facilities we used: in many cases old and tired, but scrupulously clean and proudly kept up.) The domestic flights to/from Annaba were on, by contrast, a brand new 737-800 proudly painted and bearing on its nose (as national airlines around the world often do) the name of a local figure of historical importance. In Ireland, these are all saints; in this case, the plane was named Jugurtha, to the satisfaction of every classicist aboard.
In Algiers, we were guests at the El Aurassi Hotel.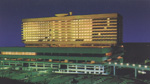 This is the most prominent hotel in the city -- literally, inasmuch as it stands on a dominating height overlooking the heart of the city and can be seen as soon as you come into the central harbor district. Every room is large, has a terrace facing either harbor or mountain, and all modern conveniences, within the limits of socialist construction and Italian architecture dating from 1973. The only air conditioning was provided by manipulating the balcony door, but the nights were cool and we realized that the spotlighting of the building had, among other things, the effect of keeping the bats we saw in the air from finding their way into our bedrooms. We slept thus with the sounds of barking dogs near and far and, beginning at 4:30 a.m., the calls of the muezzin from several of the main mosques.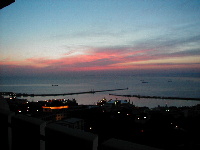 The El Aurassi hotel is an enclosed world and provided all the facilities we required. A small business center on the first floor even offered Internet access at $4/half-hour, with a connection that was sometimes very slow but serviceable enough. Several restaurants and bars were arrayed around the two main floors, as well as shops of various kinds, but I did not see the shops much open for business, and even the lobby kiosk selling newspapers and maps was open for only one day that I was there. My first choice in a strange hotel in a strange city is to lay in a supply of bottled water and Classic Coke, but found here that only room service could supply, at prices neither high nor low by western standards.
The conference was played out here in a large ballroom on the second main floor of the hotel with seating arranged for perhaps 600 people. Permanently installed booths for translators line the side of the room and the equipment (wireless receivers with headsets) was of the best recent quality. All proceedings were in either French, English, or Arabic (predominantly French) and simultaneously and skillfully translated into the other two languages at all times. The stage and audience were blindingly illuminated, the better for the several TV cameras to work, both those recording the full proceedings and those handheld by journalists reporting on the event. For all but the last day a substantial press section was well attended; by the last afternoon, the excitement of an unending series of scholarly papers had evidently worn thin.
Conferencegoers were hosted to luncheon and dinner each day, with an inner chamber for the hundred or so non-Algerian guests and the principal hosts. The food was abundant to superabundant (at least soup, fish, meat, and fruit, and sometimes an additional course), accompanied by tall bottles of bottled water and (Classic) Coke. Though the enclosure to the hotel could have been frustrating, the spaciousness and the hospitality kept us from claustrophobia -- that and, to be sure, the chance to go out on one's own terrace in the guest rooms and catch the sunset and fresh evening air.
Algiers itself, seen from vehicles going to and from the airport and from the hotel's promontory, is a large and busy city. The harbor is quite busy with shipping, and even one large cruise ship gleaming white appeared one day, stayed a couple of hours, and then disappeared. The city reminds me somewhat of Beirut, but has not the advantages of Beirut's cliffs, in-city beaches, and proximate mountains -- the landscape is a bit more spread out, and what we saw was mainly the unappealing center-city terrain. Old colonial architecture dominates in the heart of town, somewhat the worse for wear, and the streets were full of rush hour traffic in the morning -- loaded busses groaning in all directions, crowds waiting by the roadside for the next one, etc. (At night, by about 10 p.m., the streets were by contrast strikingly empty, and one insomniac night I looked out at 2 or 3 a.m. to see streets with hardly a car moving for miles.) Along the ridge of land that curves behind the waterfront, the El Aurassi Hotel is a landmark; behind it and higher up to one side is the fabled "casbah", where a sober website says that it is suicidal for any outsider to venture at this point. Along the ridge towards the southeast (towards the airport) an enormous ten-story high modernist sculpture (three swooping metal bands rather like an artist's representation of an old native American teepee) reveals itself as the local "Martyrs Memorial", erected in 1982 on the twentieth anniversary of independence. 92 meters high, it is topped (the 'Guide Bleu' reports) by a minaret and a television transmission antenna. Roadside signs to and from the airport suggest some commercial presence, but nothing much more than one sees in Phnom Penh, Kiev, and rather less than what one sees in Lebanon. It is not that the country is not prosperous (but unemployment remains high, even with the hordes that must be employed in the security business) -- it seems in fact rather better off than post-Soviet Ukraine, for example -- but long years of socialism (from the sixties through the eighties) followed by a decade of low-grade civil war have deterred foreign investment and presence to a remarkable degree. The overall impression is thus two-sided: a "westernized" society, prosperous and Francophone, with citydwellers (and most small town folk) in straightforward western attire and not much chador: the young women wearing a modified form of modest Islamic dress, moreover, seemed to mix and work quite cheerfully with their most fashionably dressed (western-style) contemporaries.
In Annaba, the hotel (the El Seybouse) was equally prominent in its way, at the heart of the city. It ran to fourteen stories with too few elevators (and with the restaurant on the top floor, this meant that some of us got a fair amount of unexpected cardiovascular exercise without benefit of a health club). Small kiosks in the lobby offered gifts in one, soft drinks in another (12 ounce bottles of [Classic] Coke for just under $1), and one (which I noticed only five minutes before leaving for the last time) Internet access. We were at some disadvantage invading and departing en masse as we did, hence the overburdened elevators, but the hotel staff were consistently welcoming and helpful. The meals were similar in abundance and cuisine to those in Algiers, with music laid on at dinner.
On the last night in Annaba as dinner was ending we were invited to a 'soirée musicale' at the city's main theatre. The forty or so of us willing to stay out late walked down the "corso" to a handsome and spacious theater (rebuilt after an original was bombed in 1942-43). There we were greeted from the stage by a local representative wearing western shirt and trousers and over that a plain black academic gown. He gave us benefit of a "disquisition" on the musical traditions (Moorish and Spanish) of Annaba, then introduced a group of eight musicians: seven in sobersided western business suits playing a flute, a guitar, three more exotic stringed instruments (played like a guitar), and a tambourinist, a percussionist with a small handheld drum; they were joined by a more flamboyantly clad leader and chief vocalist who played a viola in the local style (i.e., holding it as we had seen one of the musicians at dinner the night before, as a western performer would hold a cello or bass) and we had an hour of interesting -- if opaque to many of us -- and certainly very pleasing performance.
Making travel arrangements to Algeria is no trivial feat, given that no Americans have much experience in this regard. I must close this section by praising the efforts of our hosts. Madame Fatima Bou Ayad of the Haut Conseil Islamique had mustered a staff to look after the concerns of the outsiders who worked tirelessly and effectively to keep us happy, safe, and on schedule. This whole conference was clearly a very large undertaking for the government for the Haut Conseil Islamique, and for the cities that welcomed us, and though some things ran half an hour behind time, the precision and attention to detail were quite extraordinary. My own defining moment came on my last day. I had to leave Algeria a day before my colleagues, to get back to my teaching duties in the US, and so had to make special arrangements through Madame Bou Ayad's associates. They took my domestic air ticket and assured me that all would be well. I confess to a pang of concern when I bade farewell to the conference and my colleagues, as they were leaving the hotel forever at 7:30 while I waited my 9:30 ride to the airport. Given the security situation, to be alone in a hotel in Annaba with no airline ticket in hand, depending on the kindness of alloglot strangers, will focus the attention wonderfully. But precisely on time, my ride came, I was whisked to the airport in a few minutes, ushered into the VIP lounge (this time shared with a single Algerian businessman), then escorted to the plane, welcomed by name, and flown off quite on time. In Algiers, the familiar signpost was waved from the foot of the stairs, and I was bussed back to the VIP tent (see below under "security situation" for the story of my first arrival). There the staff consulted my ticket and came back moments later to report that though I was booked on the 3:15 flight to Paris, it was now 11:45 and there was a 12:00 flight for Paris -- would I like to take that one instead? Yes, indeed, I said: a moment later they were handing me my boarding pass ("and we have put you in First Class" they volunteered) and I was soon in a large comfortable seat, leaving Algeria three and a half hours early. The champagne was Taittinger, the flight was on time, and Paris was Paris. The only difficulty of my entire trip came the next day, when United's flight out of Paris developed mechanical difficulties after an hour in flight, diverted to London, and we were put up the night in an airport hotel with a 4 a.m. wakeup call to return us home eighteen hours behind schedule.
Conference ---- Site Visits ---- Travelers' Tales ---- Security Situation