Now in Paperback from the University of Georgia Press
The Year of the Hare: America in Vietnam, January 25, 1963­February 15, 1964
by Francis X. Winters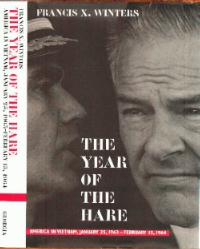 "Provocative. Packs [an] intellectual wallop."
--Joseph J. Ellis, Chicago Tribune
When the United States government engineered the overthrow of the troublesome South Vietnamese leader Ngo Dinh Diem in November 1963, it set in motion a tumultuous course of events deepening the Vietnam War. The Year of the Hare asks why President John F. Kennedy decided to depose his ally of nine years, despite almost daily warnings from some cabinet officials that the most likely consequence of a coup would be chaos.

To answer this question, The Year of the Hare takes us inside the Kennedy administration, where the State Department largely supported the coup while the Pentagon and the CIA consistently resisted it. Francis X. Winters's research is based on in-depth interviews with high-ranking members of the Kennedy administration, the newly issued multivolume compilation Foreign Relations of the United States, 1961­1964, Vietnam, and the recently opened General Records of the U.S. State Department for 1963.

The reasons for support of the coup lay in the ethos of the era, with its dynamic confidence in the superiority of American ideals, and in Kennedy's political aspirations. The Year of the Hare explores the interplay between the idealism and personal ambition that were at the root of the war that haunts us still.

Francis X. Winters, a professor of ethics and international affairs with the School of Foreign Service at Georgetown University, is a member of the Council on Foreign Relations. He is the author of Politics and Ethics and edited Ethics and Nuclear Strategy?.

View the Table of Contents.
ORDER FROM THE UNIVERSITY OF GEORGIA PRESS
(Click on the above line for an email form.)
330 Research Drive
Athens, Georgia 30602-4901
E-Mail : books@ugapress.uga.edu
Phone : 1-800-266-5842
Fax : 706-369-6131
304 pp.
ISBN 0-8203-2121-4 paperback
Price: $15.95
Shipping & handling:
Inside U.S.: $3.50 for the first copy; $.75 for each additional book.
Outside U.S.: $4.50 for the first copy; $2.00 for each additional book.
(All payments must be in U.S. funds.)
Order code: M002
MC / VISA / DISCOVER / AMEX accepted

"An enthralling and sardonic study of the events and personalities
surrounding the ouster and assassination of Ngo Dinh Diem."
-- Foreign Affairs
"Illuminates the uneasy blend of idealism and hardheaded realism underpinning
U.S. political culture. An insightful look at the process of crafting
foreign policy in a democracy."
-- Library Journal
"Winters has written a provocative book. . . . His biographical sketches
of Rusk and Diem make the book a worthwhile read . . .
for any student interested in the Cold War and American liberalism."
-- Journal of American History
---