PROVOST


DeGioia Announces New Provost

By Arianne Aryanpur
Hoya Staff Writer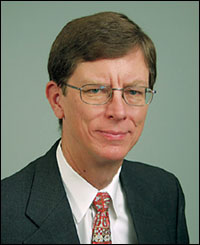 O'Donnell.
Georgetown announced Monday the appointment of James J. O'Donnell as the university's Provost. O'Donnell will officially succeed Dorothy M. Brown on July 1, 2002.
"Dr. O'Donnell will be a dynamic and effective Provost," University President John J. DeGioia said in a letter to the student body.
O'Donnell comes to Georgetown from the University of Pennsylvania where he currently serves as Professor of Classical Studies and Vice Provost for Information Systems and Computing. A Penn faculty member for over two decades, O'Donnell has also taught at Johns Hopkins and Cornell Universities as well as the Catholic University of America.
"[O'Donnell's] leadership will be instrumental in helping Georgetown to maintain excellence in undergraduate education, to build our strengths in graduate education, to capitalize on opportunities to integrate technology with scholarship and teaching and to address the financial challenges before the Main Campus," DeGioia said.
According to DeGioia, O'Donnell has expanded Penn's technological infrastructure and has been an instrumental figure in the integration of technology into the academic sphere nationwide.
O'Donnell said he hopes to bring his expertise in the technological field to Georgetown by expanding current resources to fit the university's needs.
GUSA President Kaydee Bridges (SFS '03) and Vice President Mason Ayer (SFS '03) said they were impressed with O'Donnell and looked forward to exchanging their ideas. "I liked the fact that he has a very strong background in technology," Ayer said. "Kaydee and I spoke to him briefly about our idea for a more comprehensive student Web site and he was not only very receptive, but also very well informed. Overall I hope he will be able to raise the bar for technology at Georgetown," Ayer said.
O'Donnell said that after meeting with various university community members in the past month, Georgetown feels like the right place for him.
"Georgetown excites me because it is big enough to make a difference in higher education and research nationally and internationally but small enough to care intensively about how it makes that difference and to keep a strong focus on the students it exists to serve," he said in a press release.
O'Donnell also lived in student housing for six years as a housemaster at Penn, exhibiting what Bridges called a desire and willingness to connect with students.
"Although he will not be continuing [the position of housemaster] at Georgetown … I believe he will carry over an attitude focusing on strong student interaction," Ayer said. "I think this is very important given how ill-defined a position he is in. If he is able to maintain a good amount of interaction with students I believe his role here will be better understood and perhaps more appreciated."
Ayer said that O'Donnell has already expressed interest in the possibility of meeting with the GUSA Assembly to field questions from representatives and the student body later in the year.
As provost, O'Donnell will serve as the chief academic and administrative officer of the Main Campus and will assume the role of University President when DeGioia is absent. His responsibilities, according to DeGioia, encompass areas such as admissions, student life, financial aid and administrative staff.
O'Donnell said a challenge he faces is becoming acquainted with his colleagues and university students and not becoming locked up in an administrative office. "I'm going to have to listen and learn a lot," he said.
He noted that post-Sept. 11 "higher education [has been] at an interesting cusp." Universities have been made aware of not only the ways they can help students but the contributions they can make to the world as well, he said.
In a letter to university faculty and staff in September DeGioia praised Brown's contributions to Georgetown. "Dorothy's dedication to Georgetown is exemplary and I look forward to opportunities later in the academic year to recognize with you her remarkable contributions to Georgetown over the years as teacher, scholar, colleague and administrator," DeGioia said.
After serving as a Georgetown faculty member for 30 years, Brown assumed the position of interim provost, which she held between 1998 and 1999. Brown has served as university provost for the past three years.
"Institutions like this are healthy and successful when they're bustling with new ideas — more than they can handle," O'Donnell said, referring to the many the university presently faces.



Copyright ©2002 The Hoya, All Rights Reserved