PRESS RELEASE
October 6, 1999
Contact: Buff Lindau
(802) 654-2536
Penn Classics Professor & Vice Provost,
James O'Donnell,
Awarded Honorary Doctorate
from Saint Michael's College in Vermont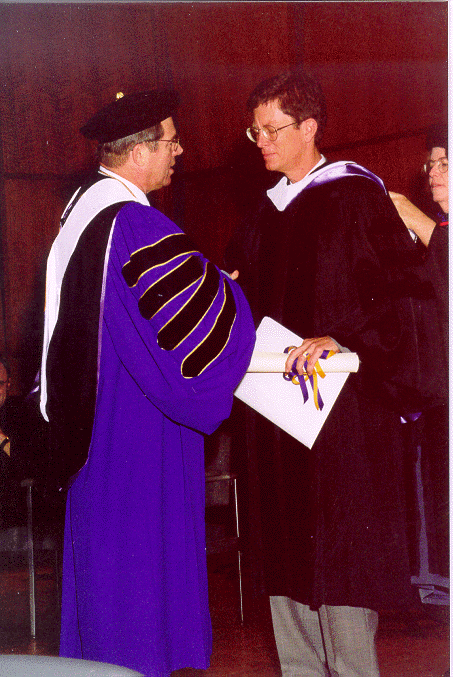 At the annual academic convocation of Saint Michael's College of Vermont, Dr. James J. O'Donnell of the University of Pennsylvania, was awarded an honorary doctor of humane letters degree. The cap-and-gown ceremonious event Sept. 24 featured a lecture by O'Donnell, academic achievement awards to Saint Michael's faculty members, and musical selection by Bach performed by the student wind ensemble of the Catholic liberal arts college.
O'Donnell, professor of classical studies and vice provost for information systems and computing at Penn, gave a learned lecture about innovative pedagogy with the tongue-in-cheek-title, "How to Prove the Earth is Flat."
Saint Michael's President Marc vanderHeyden awarded O'Donnell the honorary doctorate and draped the academic hood over his shoulders. O'Donnell's achievements were outlined by SMC Dean of the College John Kenney with reference to his education at Princeton, University College, Dublin, and an earned Ph.D. at Yale, all by the time O'Donnell was 25.
O'Donnell began his teaching career at Bryn Mawr, moved to Catholic University and then Cornell before arriving at Penn. He gained international renown for his teaching and scholarship, most especially through a series of works on Latin Christianity in late antiquity. This work includes "a monumental three-volume introduction, text and commentary to Augustine's Confessions," published by Oxford University Press in 1992. O'Donnell also lives in and directs a residential academic community for Penn undergraduates, Hill College House.
O'Donnell's unusual commitment to computer technology in the classroom led to his selection as Penn's vice provost for computing because, as the former university provost stated, "We wanted someone managing computing who understood it intellectually, from the bottom up." O'Donnell founded two e-journals, Bryn Mawr Classical Review and NewJour, and he made significant innovations in Penn's computing systems and in the classroom using, among other approaches, decentralized computer support. His latest book, Avatars of the Word: From Papyrus to Cyberspace (Harvard University Press, 1998) sees history "as a succession of information technology crises beginning with the invention of writing."
Buff Lindau
PR Director
Saint Michael's College
Winooski Park
Colchester, VT 05439
phone: (802) 654-2536
fax: (802) 654-2592
email: blindau@smcvt.edu